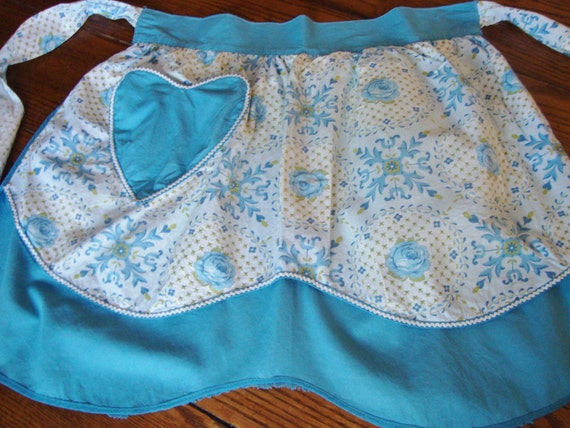 Reversible Apron Vintage Floral and Blue Heart Pocket Kitchen Aprons
This pretty vintage apron is reversible. It is a combination of a blue floral and blue fabric. Each side of the apron has a heart shaped pocket. The apron measures 16″ across at the waist and 18″ from the waist to the hem. It is in nice vintage condition with no holes or stains. It does have a little fraying at the hem.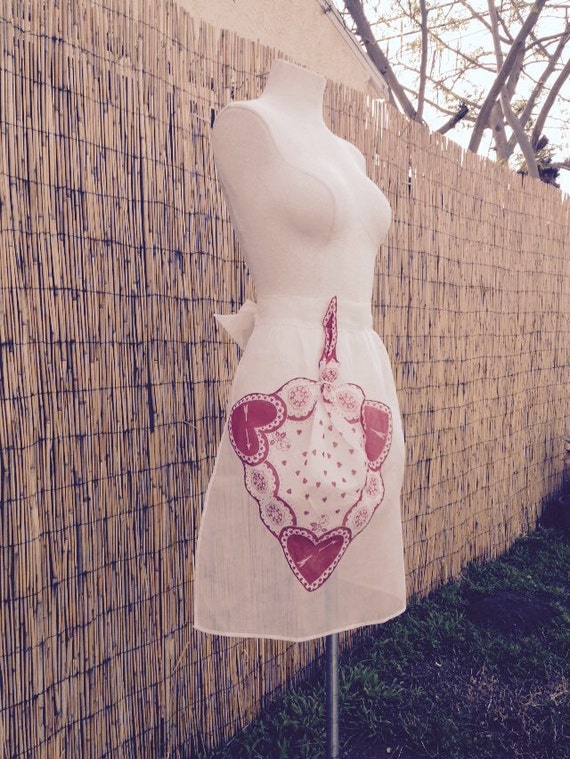 Valentine Apron, Vintage 1950s Organza Apron
Sexy, fun organza half apron, perfect for Valentine's Day. Great gift for the 1950s lover in your life. Sweet Valentine's hanky sewn as a pocket on one side, a ric rac squiggle on the other. Would also be fantastic for a vintage display.
This cutie is 22 inches long, the ties are 58 inches from end to end.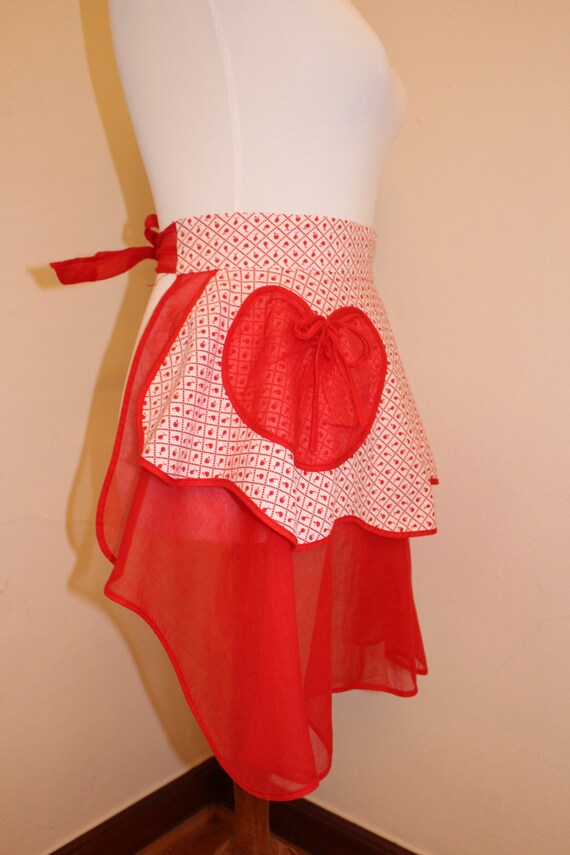 Heart Layered Vintage Apron, Retro Women's Red and White Half Apron, Cute Pin-Up Apron with Pocket, Valentines Apron Sheer
This cute red hostess apron has so much volume and texture! The skirt is sheer red, with an overlay of red and white patterned cotton and a sheer red pocket in the shape of a heart. Still in like-new condition!
Pictured on a size 4 dress form. Measurements available upon request.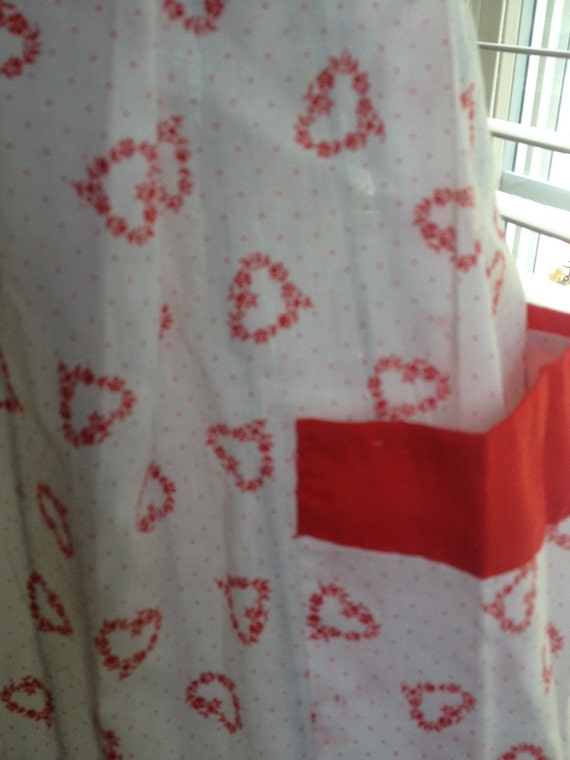 Red Heart Half Apron w/ Pockets Handcrafted White Vintage Hand Crafted
Vintage Hand Crafted Half Apron w/ Pockets.
Lovely Handmade Estate find.
Handcrafted from lightweight Red & White Cotton fabric.
White background w/ Red Hearts.
Solid Red accent on pockets & apron ties.
Hand stitched seams & hem.
Approximately 23″ long.
Excellent vintage condition.
A Hendersonville NC estate find.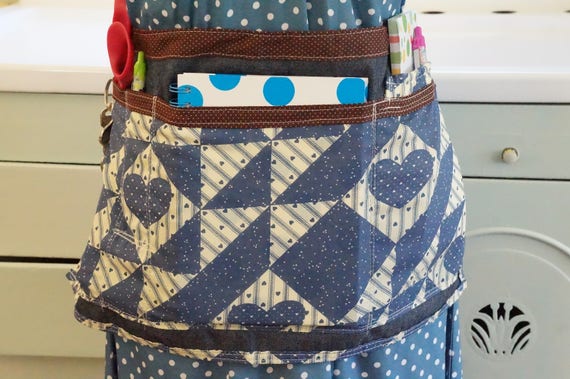 Country Heart Apron/Waitress Apron/Folk Art Apron/Heart Apron
Multi-Purpose Half Apron …………. Fits Sizes – (X Small – Large) … Reg. Size
Waitress/Craft/Gardening/Cleaning/Vendor Apron … (You Name It Apron)!!
Country Heart Apron – Denim and Hearts
Features 3 1/2 pockets.
One large pocket in the front for server book, on the right, a small pocket that holds two pens, and a pocket to hold cell phone, ect.
I added a key holder right over the pocket, so your keys can hang over or can be tucked into the pocket, while still being on the key holder.
On the left side a pocket for your tips. This one I inserted elastic to gather the top, so cash and change won't fall out.
Measures approximately:
– Apron – ( 21 1/2″ ) Wide ( 10 1/2″ ) Tall (54.6cm X 26.7cm)
– Front Pocket – ( 7 1/2″ X 8 1/2″ ) – (19.1cm X 21.6cm)
– Right Pocket – ( 7 1/2″ X 4 1/4″ ) – (19.1cm X 11.4cm)
– Left Pocket Gathered – ( 7 1/2″ X 5″ ) – (19.1cm X 12.7cm)
– Pen pocket holds two pens.
– Ties are ( 40″ ) long each (101.6cm)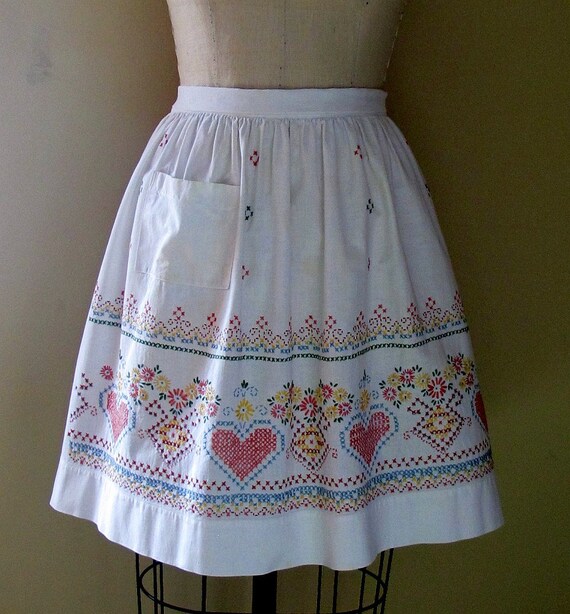 Vintage White Apron with Cross Stitch Heart and Flower Motif
This vintage apron is absolutely charming. It is decorated with a heart and flower motif which was cross stitched by hand.
The apron has an 18″ waistband attached to two 26 1/2″ ties (71″ total) and a 21″ drop including the waistband. There is a pocket on the right side.
As with any vintage item, this apron has been loved and worn — there is a small hole on the pocket which could easily be mended. The colors are soft & lovely and the embroidery work is very good condition.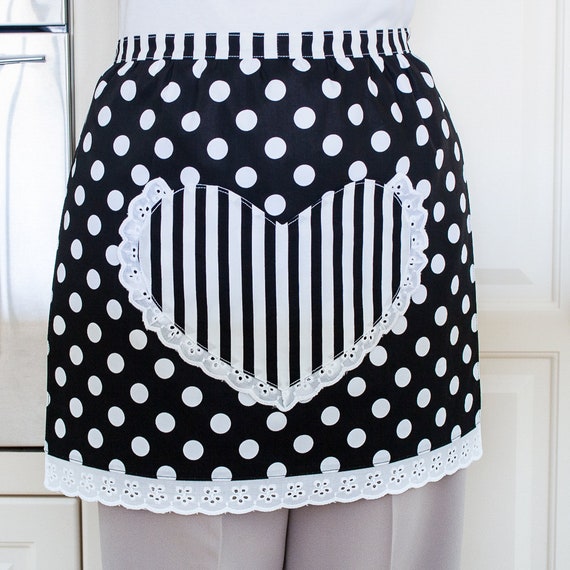 Polka Dot Apron, Half Apron black & white, womens retro 50s apron with striped heart pocket, kitchen tea hostess apron, cafe waitress apron
Polka Dot Apron, Half Apron black & white, womens retro 50s apron with striped heart pocket, kitchen tea hostess apron, cafe waitress apron.
Love all things Retro? Why not bring a "retro rockabilly" look into your kitchen with these jazzy "Black and White" printed aprons!
They come in a fun "Spots and Stripes" print pattern style and I have added a subtle splash of Broderie Anglaise lace to complement the design.
Made from quality, fully washable, colorfast, light weight 100% cotton fabric and lined in white cotton. The fabric is pre-washed and seams are top stitched for durability.
Large handy lined "heart" front pocket which is practical for all your kitchen utensils and other essentials.
One size fits all. Gathered at the waist for comfort and tied at the back with extra-long ties.
Measurements:
21 inches (54 cms) wide at bottom
17 inches (44 cms) wide at top
17 inches (44 cms) long
Each tie 30 inches (77 cms) long
Care: warm wash separately, line dry and steam iron.
Great as a gift for that someone special.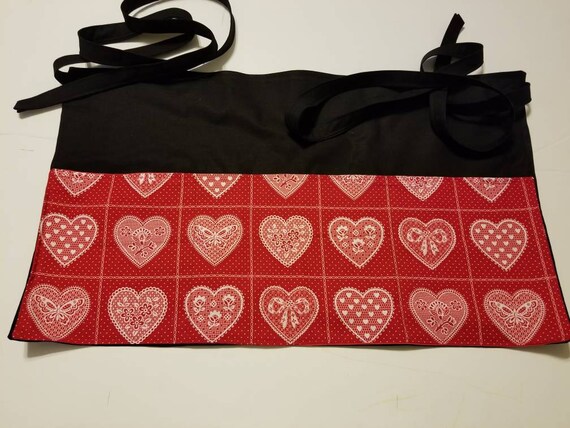 Lacey Hearts Waitress/Teacher/Vender/Server/Half/Waist/3 Pocket Apron
My aprons are able to fit from the smallest waist to the very largest. I have sold to men and women of all shapes and sizes. The beauty of how I make my aprons is in the strap length. They are very long. So, if you feel as though you may need them really long, be aware. I have fit a man with a 56″ waist with these straps. Women who wear size 24. Smaller waists can wrap the strap around to the front to tie.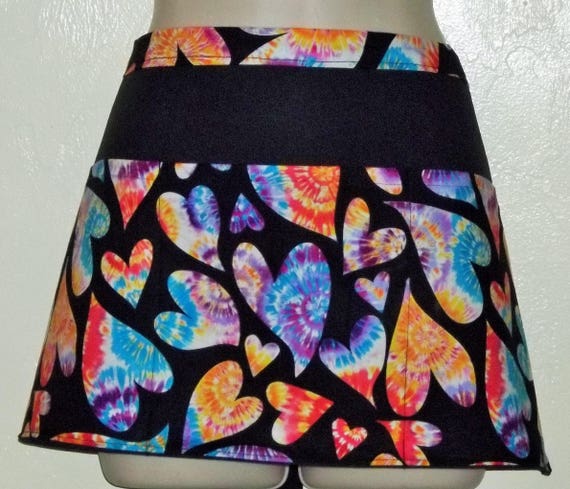 Handmade server waitress half apron Tie-Dye Hearts on black with three pockets
Hand crafted of durable 9oz duck cloth and 100% cotton. Reinforced stress points, machine washable and extra long ties 52″ from center of apron to each end. Size 22 1/2″ W x 12″ L with 9″ depth pockets.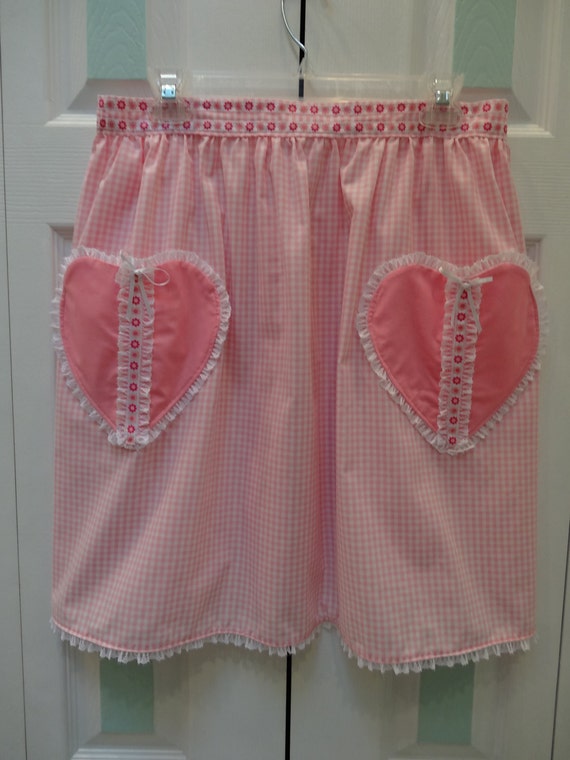 ADORABLE HALF APRON , Pink Gingham with two pink heart shaped pockets,white lace trim embroided ribbon
Beautiful Angela is featured in a lovely pink gingham vintage style fabric. Tie back waist detailed with heart ribbons. Simple and romantic. Twin pink heart detailed pockets with heart ribbon and lace trim and bows. Hem is accented with delicate lace.Ties are extra long.24′- 21″ length—44″ width.
Perfectly romantic.one size fits all,perfect for the plus sized woman.
READY TO SHIP
machine washable and dryable
made in a pet free and smoke free environment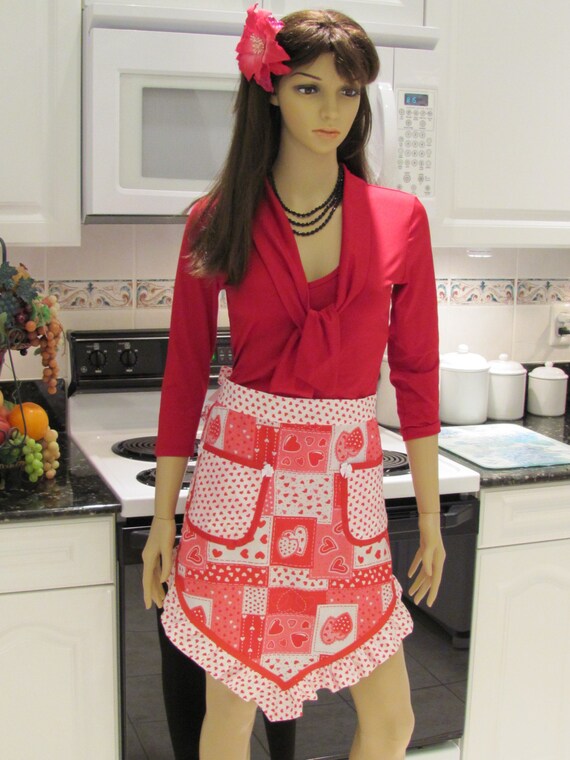 SEXY HALF APRON,made in a red, white and pink heart print, two pockets, ruffled hemline,red bias trim
One of our newest sexy-style half aprons. Sexy style print in red and white check, and hearts, complimented with matching white and red heart fabric. Perfect for kissing your sweetie in the kitchen.
This absolutely adorable apron is fun and flirty, and very feminine. Tie back waist or the straps are long enough to wrap around, tying in front.
Beautiful ruffle hem finished in red trim. Double lined heart pockets are finished with red trim and white rosettes.
READY TO SHIP
Measures:
22″ from waist to point in hem.
36″-42″ tie back
machine washable and dryable
shipping,first class mail,padded envelope-USA tracking number EXPECTED ARRIVAL DATE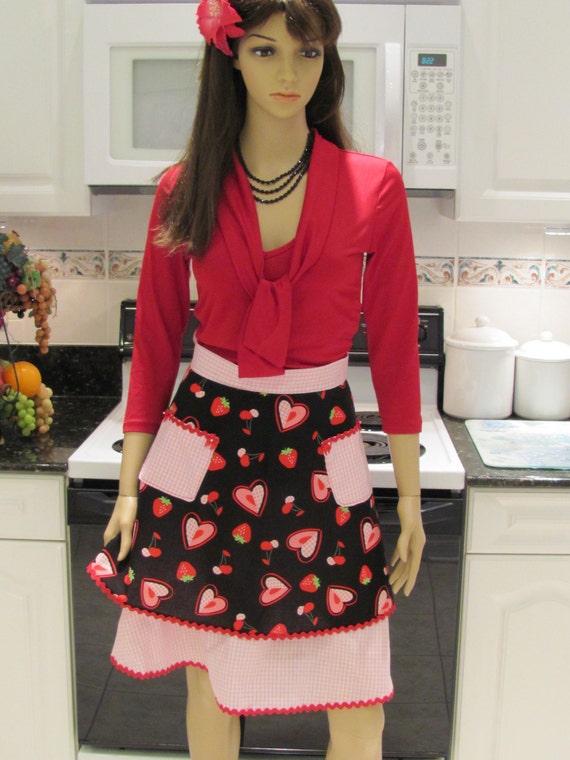 DOUBLE HALF APRON, modern style, hand made , Heart/Gingham in black, red and pink,two pockets
This is one of our newest retro style half aprons. Adorably unusual in that it features a complimentary double layer of pink gingham. Both pieces are finished with red ric rack on the hem.
Fun and flirty vintage style Hearts & Strawberry print. Black, red and pink, hearts, strawberries and cherries are perfect for your valentine sweets. Double lined pink gingham, twin pockets accented with rick rack.
READY FOR SHIPPING
Pink gingham tie back waist. Long enough tie back to double around waist and tie in front. Fun!
made in a smoke free and pet free environment
Measurements: 36-42″ waist tie back.22″ TO THE HEMLINE
machine washable and dryable[delicate cycle
Shipping: first class, mail, padded envelope-tracking number-USA EXPECTED ARRIVAL DATE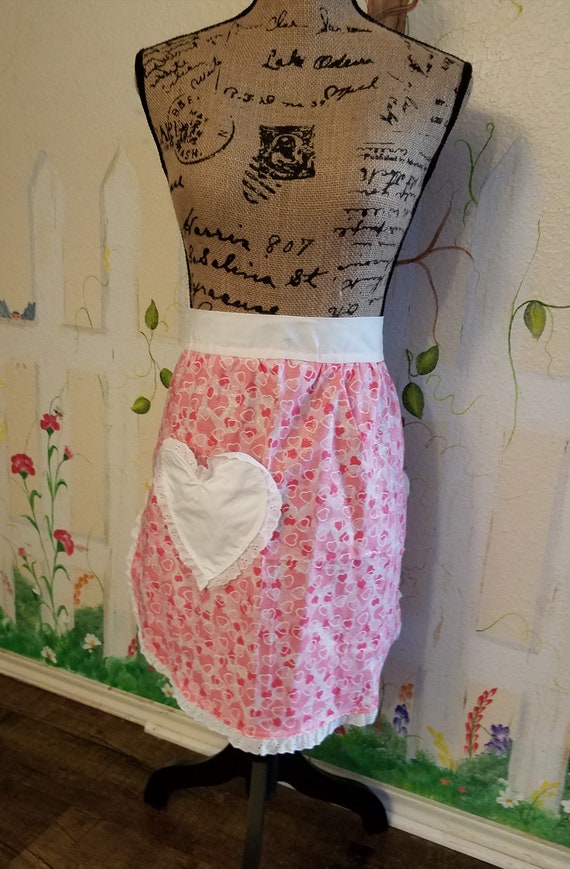 XL Half Apron with Hearts Heart Shaped Pocket Eyelet Lace Trim
Aprons usually fit the actual size plus one size up with long ties for extra comfort.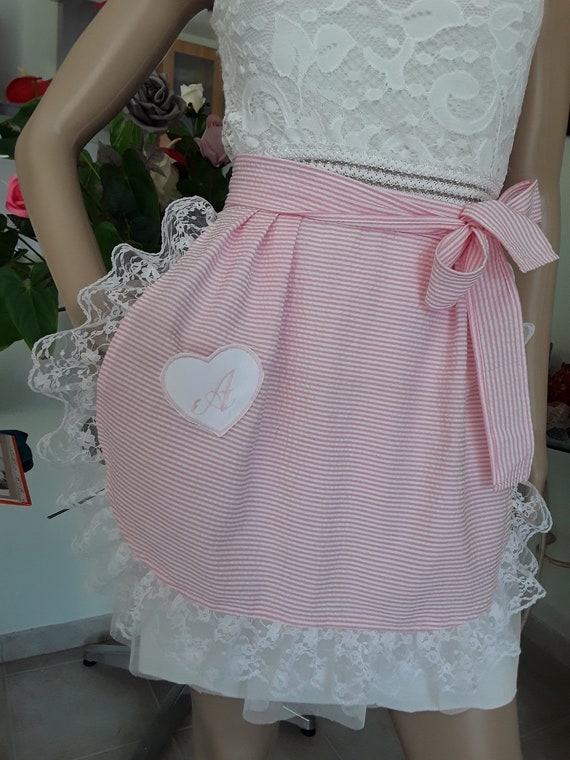 Pink white striped maid with lace all round with mini Pocket heart embroidered monogrammed large two ties to tie
Charming personalized apron for a gift a Christmas bride, bridesmaid, bachelorette party, tea, with her lover…
Small pocket to slide a love note or a phone number…
Don't forget to indicate the letter chosen for the Monogram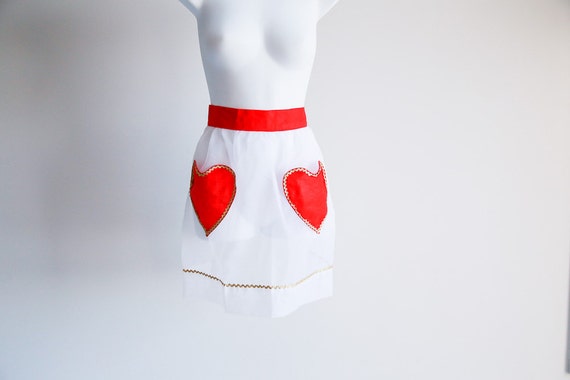 Sweet, sheer apron, emblazoned with heart patch pockets! Gold ric rac adorns the pockets and hemline.
No Tag; please double check measurements:
Tie: 59″ end to end
Length: 17.5″
This piece is in very good vintage condition, with 3 tiny holes in the apron front that are barely detectable. No stains, strong seams.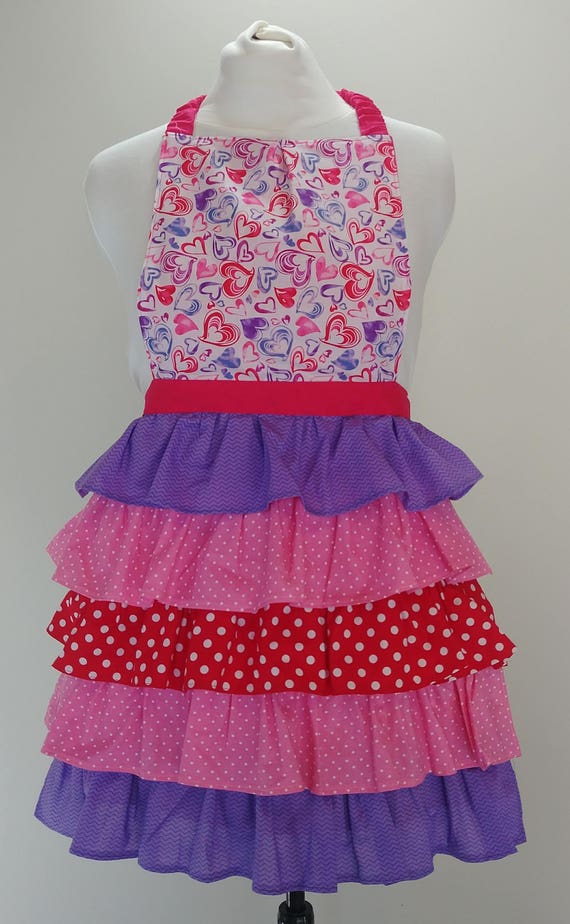 Fun and Fancy apron with a
pink and purple hearts top with a pleat
Five contrasting ruffles
Hot pink back, elastic neck and tie back straps
Made of 100% cotton. Machine wash warm, warm dryer, no bleach.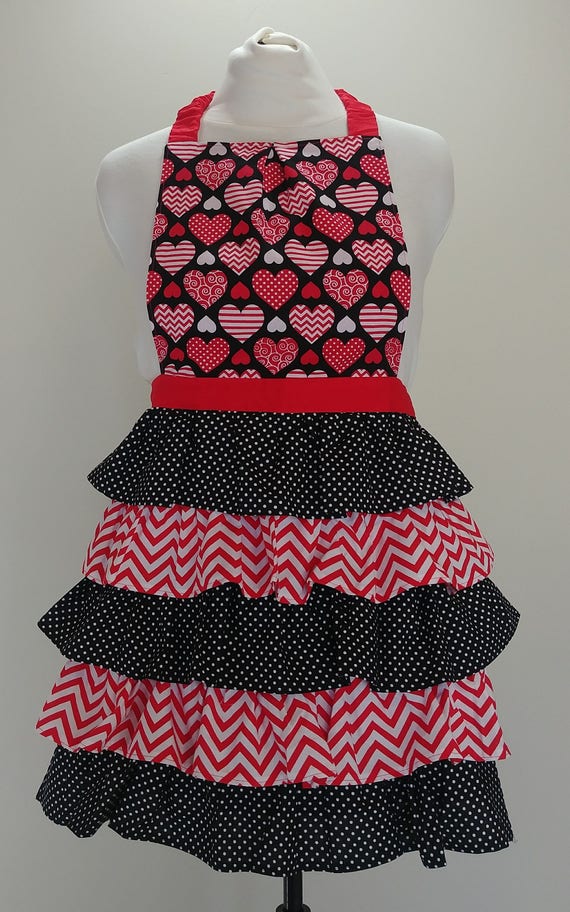 Fun and Fancy apron with a
Black and red heart pleated top
Red back, elastic neck and tie back straps.
Made from 100% cotton. Machine wash warm, warm dyer, no bleach.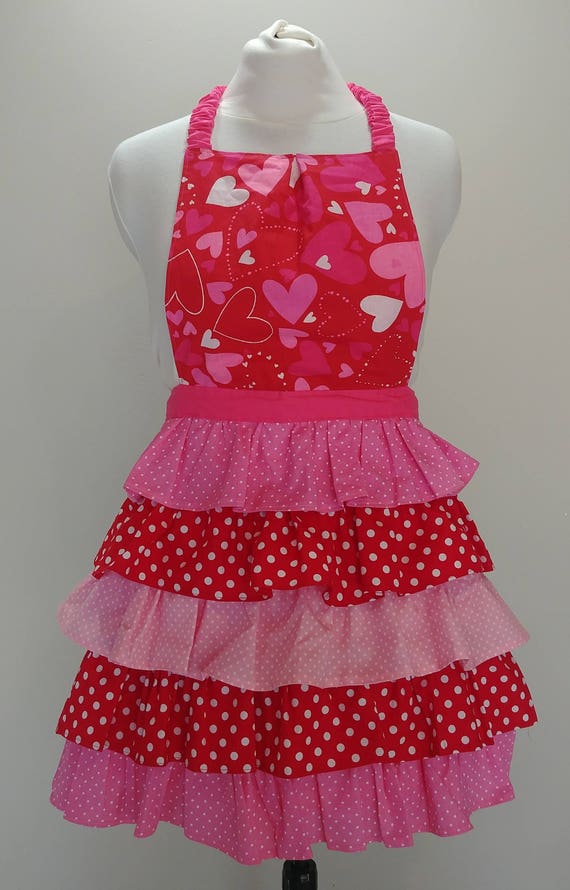 Fun and Fancy apron with a
Pink and Red heart top with a pleat
Five contrasting ruffles
Hot pink back. elastic neck and tie back straps.
Made from 100% cotton. Machine wash warm, warm dyer, no bleach.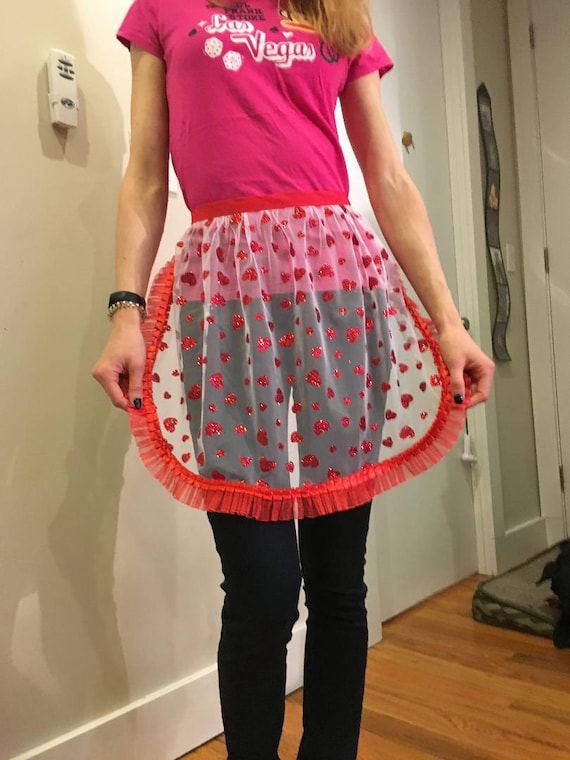 Handmade Caprone Aprone with small red Hearts and red decorations, Christmas gift for women and girls
Lovely Caprone Apron with small Hearts for women and girls, handmade with Love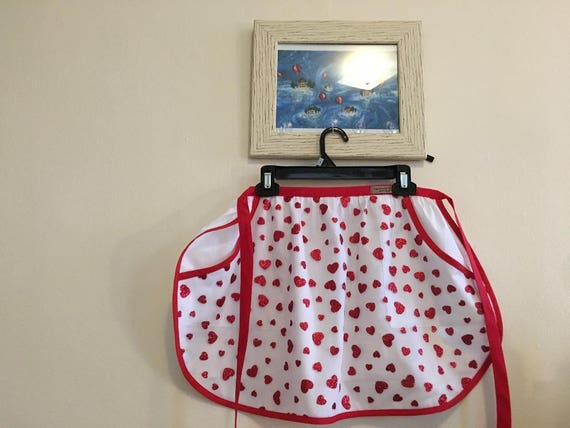 Small Caprone Apron with red Hearts, Gift for girls, Handmade Apron with two Pockets
Romantic Caprone Apron for Women and Girls with small sparkling hearts and two pockets.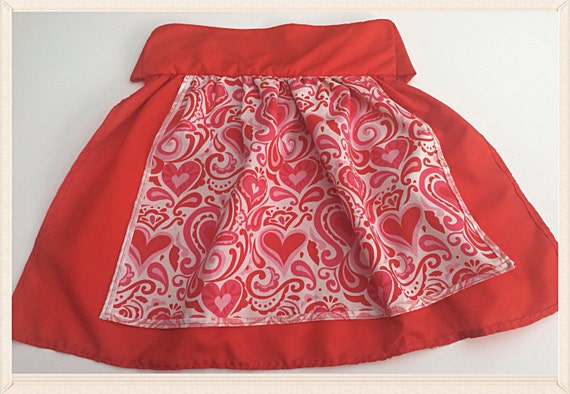 Retro red heart print 1950's apron
I loved making this retro style apron. It transports me back to the 1950's, an era that I love! If you too love this era and also love pretty things then this apron is for you!
The apron consists of a pretty red and pink swirling hearts pattern on a white background. The hearts are assorted sizes.
The background and ties are made from a plain pillar box red fabric. The apron is a lovely shape with nicely placed gathering and a good length. It comes with 2 ties which can adjust to your figure and waistband.
Relive nostalgia in the kitchen! A wonderful addition to any vintage decor, this unique apron is perfect as a vintage wedding gift, or a quirky hostess gift.
The apron measures:
LENGTH 46cm
WIDTH at waistband 35cm
FULL WIDTH including ties 180cm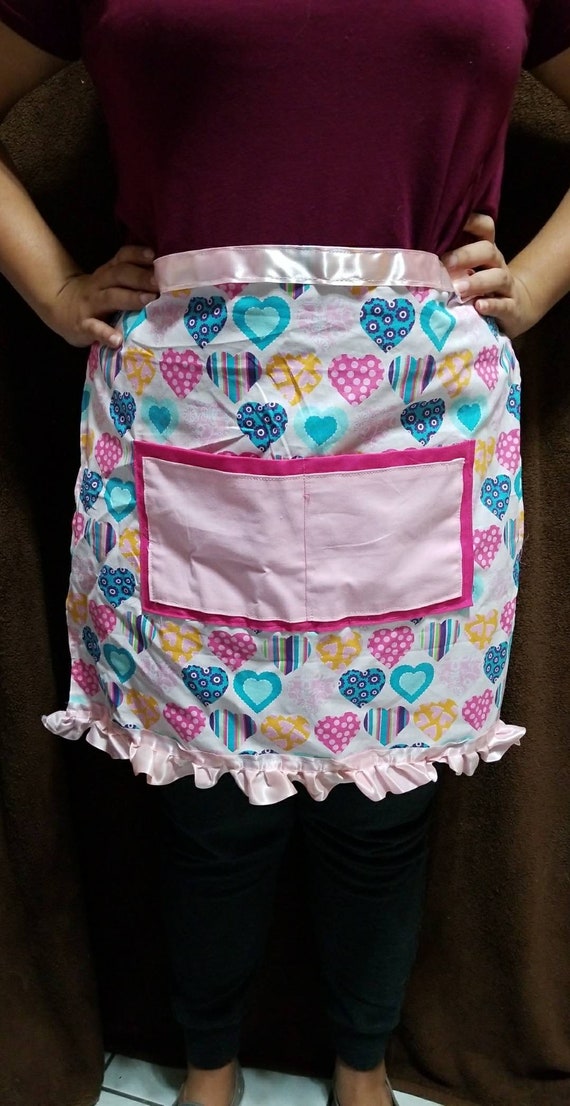 Heart half apron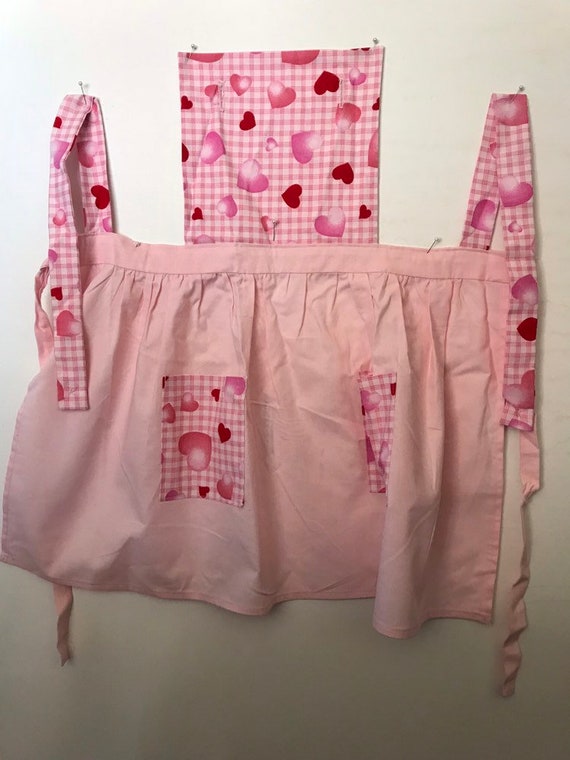 Toddler sized apron, fits ages 2-6 ish. Machine washable. May need pressing after washing.
New handmade never worn without tags
HEART- Bib, pockets and shoulder straps are hearts on pink fabric. Skirt and waist ties are light pink fabric.
FLOWERS- Bib, pockets and shoulder straps are flowers on black fabric. Skirt, waist band and ties are green fabric.
POKÉMON- Bib, pockets, waist band and shoulder straps are Pokémon characters on purple fabric. Skirt and waist ties are dark purple fabric.
SUPERHERO- Bib, pockets, shoulder straps, waist band and ties are female superheroes fabric. Skirt and is dark purple fabric.
MINION- Bib, pockets and shoulder straps are minions on light blue fabric. Skirt and waist ties are yellow fabric.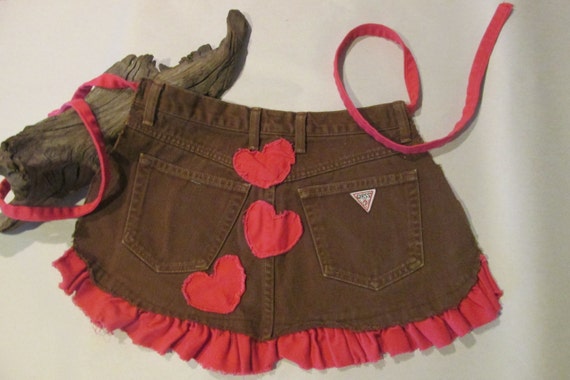 Brown Jean Up-cycled frayed half Apron with hot pink jean ruffle and Hearts
Brown Jean Up-cycled frayed half Apron with hot pink jean ruffle and Hearts – One size fits most
This apron is made with up-cycled blue Jeans & hot pink jean for the ruffle/heart material. It can be laundered normally & will fray along edges a bit more than shown in pictures.
All Aprons are hand made with up-cycled clothing, all parts & pieces are hand cut and machine sewed, no patterns are used which makes each piece a one of a kind unique piece!
Measurements:
Top to bottom: 12.5″
Across waist including ties: 70.5″